LATEST NEWS
& OTHER ITEMS OF INTEREST


You Have The POWER To Book Yourself
You can now make reservations for the 2018 season through this website! Just click on the "Book Now!" at the top of the page. Since it is a new system any issue should be reported to the staff so that we can help you with your booking, and correct the issue. See you soon!
---
Another Summer Bites The Dust
Wow, we did it. Yet another fabulous summer filled with returning favourites and new friends. New cabins and creatures delighted all. On August 26th we had a wonderful moment where the owner, Jim, saved someone from drowning. At this rate he may even be considered for employee of the month. As we look forward to this off-season and contemplate the summer-to-come we draw a singular conclusion: Blue Lake needs to upgrade. This is the same thought we have every year, and we've done well at following through on it. Long time customers will know that be it an accommodation or attraction there is always something different about us each year. It is my great pleasure to announce what will undoubtedly be the most radical evolution in Blue Lake's history since the Findlay Family became its stewards.
---
Online Booking is Coming to Blue Lake
That's right, we are going to start doing that thing that literally everyone has been doing forever. Such a game-changer. We have just announced the hospitality equivalent of using big rocks to make smaller rocks. Don't get me wrong, it has been a tremendous advantage over the past decade to handle each booking over the phone because it has allowed us to weed out the "party animals" from the "oh geeze is it 10:13 already? Time for bed" crowd which we love so much. This is a leap of faith; we are trusting you guys to make your own bookings now. Is this what it feels like when your kids move out? Why am I crying? Anyways, with tremendous power comes great responsibility. Don't mess this up for us.
---
2017 Fish Re-Stocking
We have just received our annual fish stock from the Summerland Hatchery. You can check out the video of it happening by clicking the link below:
https://www.youtube.com/watch?v=Uf-2ReWXi8s&feature=youtu.be
---
Introducing the Chipmunk Cabin
Diehard Blue Lake fans are well aware that we just recently added the Dreamcatcher Cabin to our resort. It has been extremely well received and we find ourselves chasing the high of that new cabin smell. To get our fix this year we have commissioned the building of a new "Tiny-Home" cabin. What does it mean to be a tiny-home you might ask? It looks something like this: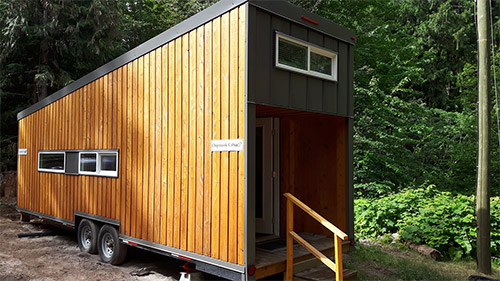 Behold! A cabin on a double axle trailer.
What may surprise you is just how much we managed to pack into this little cabin. To learn more, click here!
---
G.O.A.T.
Blue lake is steadily on its way to becoming the Greatest Of All Time when it comes to amenities. Say hello to our new little friends.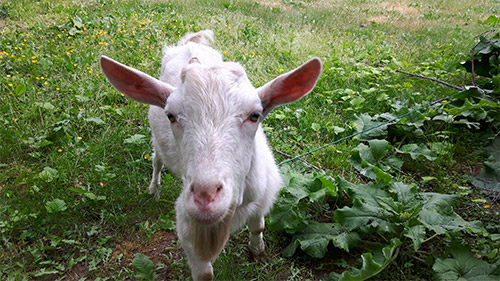 You may ask yourself: "What does having goats change about going camping". Well I'll tell you person who asks perfect set-up questions.
Reasons Why Goats Are Awesome
1. They are as affectionate as dogs
2. Your kids can play with them
3. They eat plants that I would otherwise have to prune myself
That third one is kind of a big deal to me.
Come soon and visit our goats! They desperately want to meet you
---
Winter Wonderland!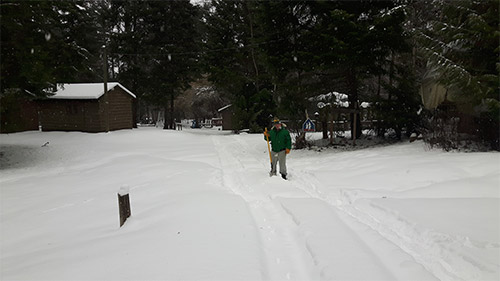 ---
Bawk Bawk
Hey campers, Shayne here. Every day I hear the same thing: "Why would I bother going to a private campground? My tax dollars pay for perfectly good facilities." Aside from the fact that reserving in a public campground is like a simulation of buying tickets for a Tragically Hip concert, we go the extra mile for your enjoyment. We have a youth room, outdoor movie theatre, a friggin' bounce house, and much more. Well hold on to your pants, because we just kicked it up a notch.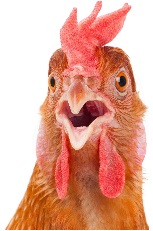 We totally have chickens and they are adorable.

There are six, count em six, chickens on site that you can use to distract your kids while you engage in day drinking. Some lucky kids will even get to help us collect the eggs in the mornings and take home for you to cook for them. Enthusiastic adults may also participate. Your move Golden Ears Provincial Campground.

P.S. I was really eggcited to feather in a few chicken puns while I was beaking off about our new arrivals, but I thought it might be too fowl.

---
New and Improved! Well, Just New Actually
We did it folks. We have completed our new Dreamcatcher Cabin! I mean, we still have to build a roof on the patio area, and skirt in around the base, and one or two other little things. What matters is that when you and your friends arrive to the resort you will find the cabin fully operational and ready to party! First rule of the new cabin: no parties. I love this cabin and I have been working on it for half a year. If someone so much as spills food on the floor I could break down crying. It's a tough moment when your little cabin grows up and bravely ventures out into the world of rental accommodations. When it looks you, its creator, in the eyes and says- nothing. It's a cabin; cabins can't talk. Maybe next year everything will be voice operated, like 2001: A Space Odyssey. A boy can dream.
For now you can check in out here: https://www.bluelakeresort.ca/dreamcatcher-cabin-gallery. There a still a few days available throughout the summer. No, not the Long Weekends.
---
News for 2016 Season!
We say goodbye to Rustic Cabin 0 this year. As the oldest structure on the property it has served well but now will go on to the big resort in the sky. Weep not, for it will be replaced by...A NEW LAKEFRONT CABIN!!
That's right, we will have a brand new lakefront cabin which sleeps 6 and will have a hot tub. The new name for the cabin is "Dreamcatcher" and we hope to open booking for it soon.
Another new feature this year will be the removal of the eyesore that was the old stage, and the completion of our NEW STAGE which will feature outdoor movies for kids and teenagers every night. A concession stand will also be attached so that we can make more money to fund more cool upgrades! Yaaaay!
---
Website Upgrade!
We are happy to announce that we have hired PostIdol Media again to redesign the Blue Lake Resort website and give us a much needed upgrade. The first thing to note about the new design is that it will be wider, larger utilizing more space so we can bring you more great info, news, events, etc. It will also finally be a mobile-friendly website, so feel free to browse on your phone or tablet! Stay tuned for the launch date!