ACTIVITIES
SOMETHING FOR EVERYONE


At Blue Lake Resort we have a great assortment of activities, both within the resort and in the surrounding areas, that are sure to appeal to any camper. Here's a list of some of the popular things people like to do with their time here at Blue Lake Resort.



BOAT RENTALS

At Blue Lake Resort we are lucky enough to have a gorgeous pristine lake nestled deep in the valley that provides a perfect backdrop for a nice outing in one of our rowboats or canoes. You can go out on the water in confidence knowing that we don't allow recreational water vehicles on the lake or any gas powered motors. This helps to lend to the wonderful atmosphere our lake possesses. Our boats are available for rent from 8am - 8:30pm and come with necessary life jackets & paddles.

We also rent stand up paddle boards now.

Visit our Rates Page to get rates on Boat Rentals.




SWIMMING

What can we say? At Blue Lake Resort we have one of the most gorgeous lakes for swimming. For children we have a sectioned off shallow area with a small sandy beach for them to frolic and play without any worries. The bigger kids and adults tend to be more interested in the couple of docks we have that reach out from the lake shore. There are also a couple of man made wood and plastic islands that always seem to be crowd pleasers as kids and adults alike swim out to them, play chicken on them and more. It truly is a plethora of fun. Or maybe you just want to go for a swim? Our clean, crystal clear lake is a true gem. Go out for a morning swim to awaken the senses or take a dip at midday to cool off. Either way, you are sure to enjoy the beautiful "Blue Lake".

**Remember: No Pets On The Beach, Please!

Visit our Photo Gallery to see photos of the lake.




FISHING

Whether you're an angler, casual fisherman, novice or child, fishing at Blue Lake is always popular. Our lake is the home to beautiful Rainbow Trout and Steelhead with sizes reaching 30cm. Come by yourself, with a friend, or bring the whole family. You can fish from one of our rental boats, or fish from shore. Whatever your preference, fishing on "Blue Lake" is simply gratifying.

Click Here! for more info about fishing on our lake.




HIKING

Blue Lake Resort is truly blessed with some wonderful landscapes meant for hiking. If you are a novice or a professional hiker, we have something for you. Take a casual stroll down one of our many trails, see the waterfall, do a mild hike. Or, if you are in search of more adventure with a rewarding end, then take our main hiking trail that goes up the side of the mountain, through the forest and opens out to a clearing where you will find a cliff that hangs over the lake! Be careful because the view is simply surreal and breath taking. You can see an overview of the entire campgrounds from there. Many just sit down and pause at the sheer beauty and enormity of the scenery. Even if you aren't a seasoned hiker, this trek is worth every step to get to that view! You have to see it at least once!

Visit our Photo Gallery to see photos of the trails.


OTHER THINGS TO DO

While Blue Lake Resort has plenty to offer in the way of activities, you may want to venture out into the surrounding areas for some more great things to do. Fun & Excitement is never too far away. Here are some great links to other activities in the area of interest.

Rafting
Other Things To Do
Towns To Visit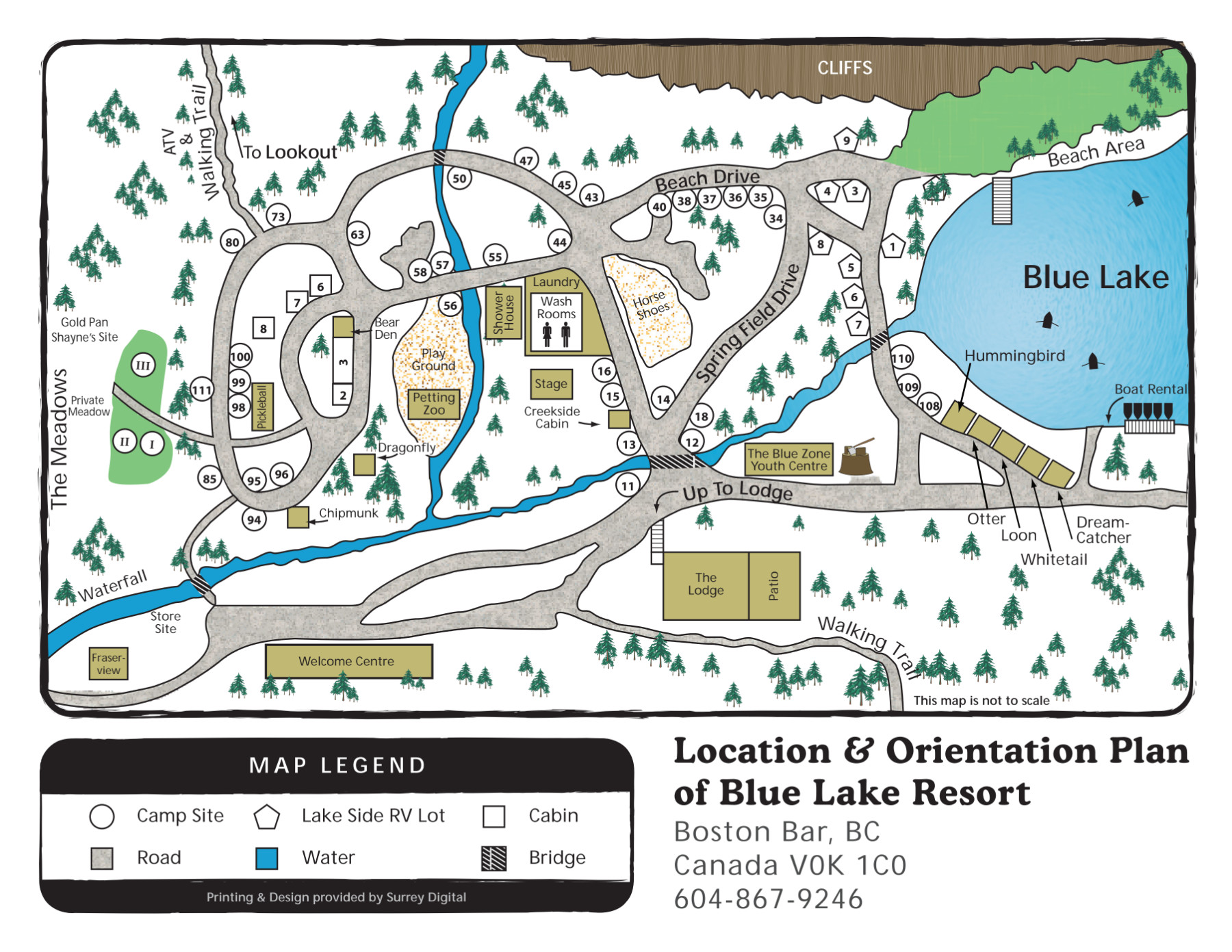 Cancellation Policy
*All reservations are confirmed with a non-refundable deposit. This deposit is 100% of the booking total.
*Cancellations made with more than two weeks notice will receive a 50% refund of the deposit amount.
*If the cancelled accommodation is re-booked for the entirety of the original stay you may receive up to 97% of the deposit amount (less 3% for merchant terminal fees).




Hot Tub Policy


Our Blue Lake staff will do everything possible to supply your hot tub use with your nightly accommodation rental. Unfortunately we cannot guarantee that our well system will always be able to supply the hundreds of gallons necessary in the event of drought conditions. As well freezing weather and mechanical issues may lead to situations beyond our control. We apologize if this were to happen. We will do everything possible to restore the hot tub services. Your rental is for your accommodations and the use of the hot tub cannot be a condition of your rental.