DELUXE CABINS
THE BEST OF THE BEST


Not just campsites, Blue Lake Resort offers an assortment of Deluxe Cabins for your stay. These cabins offer some of the luxuries of home, packed into our beautiful, quaint picturesque setting. Below you will find some details on the available Deluxe Cabins as well as our Tadpole Trailer which offer much of the same pleasantries.


CREEKSIDE CABIN

From $165 per night Our Creekside cabin offers an excellent vacation experience. Nestled in amongst the trees it can be a much cooler alternative on the hottest of days. Enjoy a view that looks onto the creek, fed from our lake, featuring fish, birds, and chipmunks. Sleeping six with a bedroom with a queen bed, loft with twin beds, and hide-a-bed, there's enough room for the whole family. Included is a bathroom with shower, well appointed kitchen, satellite TV, and a hot tub. Damage deposit required upon check-in.

Visit our Gallery Page to see some photos of our Creekside Cabin.

Please remember to bring your own bedding, towels and an axe.





CHIPMUNK CABIN

The Chipmunk Cabin is a Tiny-Home styled construction which sits upon a double axle trailer. Don't let its size fool you however, inside you will find every amenity that you have come to expect from our premier level accommodations. Included in this cabin is a full kitchen with gas range, washroom with shower, satellite TV, propane heating, and its own hot tub! A sit-in loft with a queen size bed and a fold down couch in the living room allows four people comfortably in our newest cabin at Blue Lake Resort. Outside the Cabin you will find a BBQ with propane included. Pricing starts at $155 per night. Damage deposit required upon check-in.

For more pictures click here!

Remember, it's not the size that counts, it's how you use it!

Please remember to bring your own bedding, towels and an axe.



BEAR DEN CABIN
Ladies and Gentlemen it's official, we are hooked on Tiny Homes. Our Chipmunk Cabin was such a raging success that we decided to do something incredibly radical and forward thinking. We bought another one. Rustic Cabin 5 has served us well, but it needed a new kitchen. The cost of which would have been nearly the value of the cabin as it stood. So it was chopped up and burned to make the biggest fire the North has ever seen! And so, our Bear Den Cabin has replaced Rustic Cabin 5. It sleeps up to four people with a queen size bed and loft which can accommodate an inflatable mattress (not provided). Some Key amenities are a washroom with shower; kitchenette with fridge, gas cook-top, and microwave; and a satellite TV.

For more pictures click here!

Please remember to bring your own bedding, towels and an axe.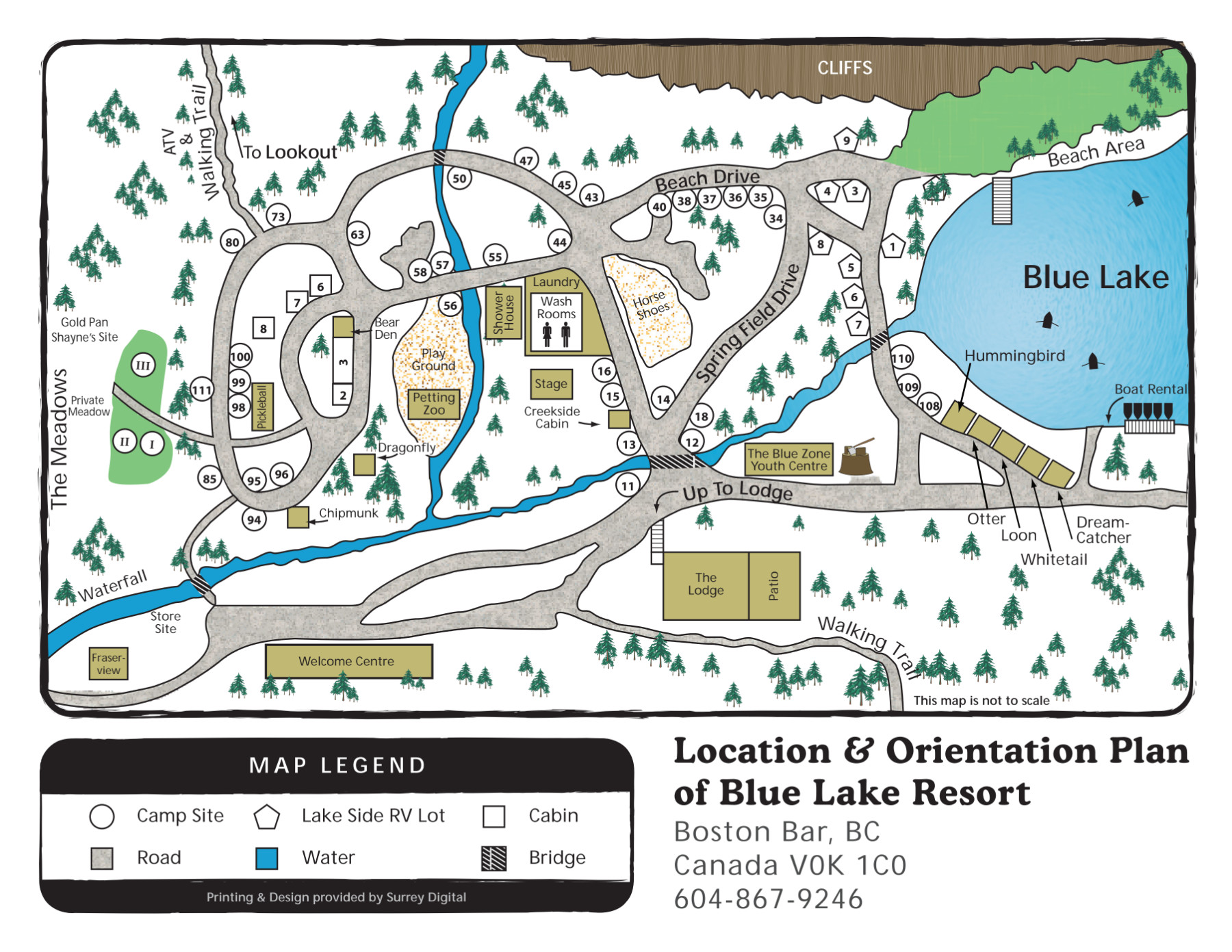 Cancellation Policy
* All reservations are confirmed with a charge on Visa, or Mastercard. This deposit is 50% of the booking total.
* Deposits are immediately non-refundable at the time of reserving.
* In the unforeseen event of a short notice cancellation (less than one week for campsites, two weeks for cabins and Lodge), your entire stay may be payable subject to us filling the opening.
Hot Tub Policy
Our Blue Lake staff will do everything possible to supply your hot tub use with your nightly accommodation rental. Unfortunately we cannot guarantee that our well system will always be able to supply the hundreds of gallons necessary in the event of drought conditions. As well freezing weather and mechanical issues may lead to situations beyond our control. We apologize if this were to happen. We will do everything possible to restore the hot tub services. Your rental is for your accommodations and the use of the hot tub cannot be a condition of your rental.